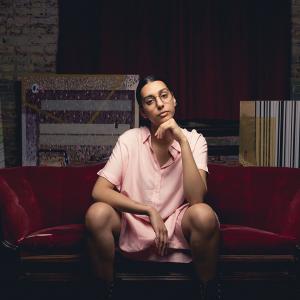 Russna Kaur
Artist member since 2018
Richmond, British Columbia
Emerging artist, Russna Kaur's work engages spaces of wonder such as cinemas, festivals, amusement parks and market places. Using mixed media to investigate the affective impact of such sites on the individual, she attempts to recreate the childlike essence of these invigorating sites through abstraction. Kaur is a graduate of the University of Waterloo obtaining her Honours BA in Fine Arts. She has shown at multiple juried exhibitions and her works can be found in private and corporate collections including The Colart Collection. Kaur is currently a Master of Fine Arts candidate at the Emily Carr University of Art + Design and has been shortlisted for the SSRCH Canada Graduate Scholarship.
---
Which piece of art you've created is your favourite, and why?
When I was in grade 4 we were learning about Claymation and had to create our own picture using plasticine on a Styrofoam plate. I created a scene depicting Pippi Longstocking on a hill, beside a tree, holding her horse above her head.
Who do you consider a genius?
Julie Mehretu, Rachel Whiteread, David Hockney
What do you listen to when you work?
various artists across a variety of musical genres, podcasts
Favourite movie
Kiki's Delivery Service/The Parent Trap/Rush Hour/Ocean's Eleven/Black Swan
Favourite musical artist / band right now
Jcole/Kendrick Lamar
During my breaks, I tend to ...
Enjoy a great meal or snack, I love food.